---
AUSTRALIAN COUNTRY MUSIC NEWS - APRIL 2012
---
MONDAY, APRIL 30, 2012
Lee portrait auction for charity
A portrait of country music star Lee Kernaghan will be auctioned at Beef Australia in Rockhampton on Monday May 7.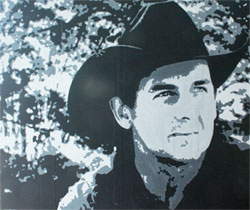 The portrait (image at right), by artist Greg Hawes, was commissioned by Ruralco-CRT, sponsor of the Australian Beef Cattle Championships dinner conducted as a part of Beef Australia 2012.
Queensland's "Stock & Land" reported that all proceeds from the auction would go to Autism Awareness Australia to support their work assisting families in rural Australia to deal with autism spectrum disorders.
The portrait was submitted for consideration in this year's Archibald Prize portrait competition and Ruralco was confident a good price would be achieved at the auction.
"Greg Hawes is an outstanding artist and he shares both Lee's and Ruralco's commitment to supporting rural communities and the work being done by Autism Awareness Australia in the bush," said Ruralco Managing Director John Maher.
"Lee has been Ruralco's ambassador for OSKA Professional, our home brand range of tools and equipment, since 2009. A percentage of the sale of every OSKA Professional product goes to the nominated charities of those Ruralco businesses who sell the range," he said.
"Ruralco also donates funds raised through OSKA to Autism Awareness Australia among other charities. Lee is particularly passionate in regard to Autism Awareness Australia."
Having witnessed Ruralco's support for Autism Awareness Australia's work, Greg Hawes wanted to contribute to the cause.
"It was a privilege to paint Lee's portrait and I'm very pleased with the painting," he said. "I feel it captures his personality and easy-going nature."
CCMA relaunches Junior Winter Talent Quest
Following its highly successful 46th National Talent Quest in January, the Capital Country Music Association (CCMA) has announced the re-launch of its previously successful Junior Winter Talent Quest.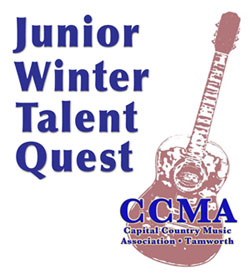 The talent quest, that ran for 15 years up to 2007 when it was suspended for a number of reasons, will run again this coming July in conjunction with a revamped Hats Off to Country festival in Tamworth, Australia's Country Music Capital.
Organisers project a longer lead-time for entrants to prepare, coupled with a stronger promotion for Hats Off and a renewed enthusiasm within the CCMA, will turnaround the prospects for an activity that once boasted hundreds of entrants.
The CCMA Junior Winter Talent Quest will have sections for junior competitors in two age groups – 12 years and under and 13 to 17 years.
Prizemoney and trophies with a value of more than $3,000 will be up for grabs.
Sections for the Junior Winter Talent Quest have also been consolidated, comprising Male and Female Vocal, Group/Duo, Instrumental, Bush Ballad, Gospel and Open Country in each of the age groups.
Entry fees will be $10 per entrant for the first section entered and $5 for each additional section per entrant thereafter.
Prizemoney will be $150 cash first and $75 second for the 13 to 17 year sections, $100 first and $50 second for the 12 and under sections. Overall winners will receive an additional $500 for the 13 to 17 year olds and $300 for 12 and under. Trophies will also be awarded to each placegetter.
Talent Quest sections will take place at the same venue as the January talent quest, now known as the NorthWest Church performance venue at the corner of Anne and Kathleen Streets in Tamworth on Thursday and Friday July 5 and 6. The 12 and under sections will run on the Thursday, 13 to 17 year old sections will run on the Friday.
Entries in the CCMA 2012 Junior Winter Talent Quest are now open.

Entries can be submitted on line at www.ccma.net.au or, if preferred, a paper form can be downloaded, filled in and posted in.
---
THURSDAY, APRIL 26, 2012
New from Jetty Road
The third single taken from Jetty Road's Far Away Places album is Sweet Goodbye.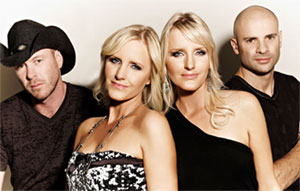 A follow up to their monster number one hit I'm A Dreamer, which spent seven weeks at the top of the national Country Tracks singles chart, is described as "a sassy tale of lies and deception" and, according to the band, the song was an easy choice as the "next instalment"
"We've had an amazing start to the year," the Road's Paula Bowman said: "The energy of this song represents where we are at the moment – in a good place!"
The band has been busy filming a video clip for the new single that features a special cameo appearance by John Kater of Jonah's Road.
"Not many people know that John is a talented actor!" added Lee. "His dark, brooding looks were perfect for the part so we were rapt when he wanted to be involved."
Weblink – www.jettyroad.com.
Chart Update – McAlister Kemp take over the top spot
McAlister Kemp's Country Proud has taken over the number one position on this week's national Country Tracks Top 30 singles chart.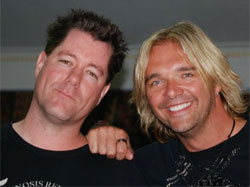 The McClymonts' How Long Have You Known, number one for the last three weeks, is at two while Christie Lamb's Mr Wrong edges up another place place to number three, as does Beccy Cole's Waitress to number four.
Doug Bruce's Sweet is at five, O'Shea's When The Girls Get Together jumps four places to six and America's Tim McGraw is at seven with Better Than I Used To Be.
Kristy Cox's Little Bit Of Wonderful is at eight, Morgan Evans bounds into the top 10 at nine with Live Each Day, as do The Bobkatz with Life's Like Fishin'.
Bullet performers for the week include Troy Cassar-Daley's Live And Learn (20 to 16), Peter McWhirter's How Can I Let You Go (25 to 22), Stephanie Jansen's Risky (26 to 23) and Adam Harvey's Dig Two Graves (28 to 24).
New entries to the chart this week include Jetty Road with Sweet Goodbye (in at 29).
The full chart can be viewed at – www.countrymusicradio.com.au.
---
MONDAY, APRIL 23, 2012
Keith scores Grand Ole Opry milestone
On Saturday night in Nashville, Keith Urban became the first member of the Grand Ole Opry from outside North America.
Keith's induction was announced last week and formalised on Saturday with his induction by nine-year Opry member Trace Adkins (pictured here with Keith).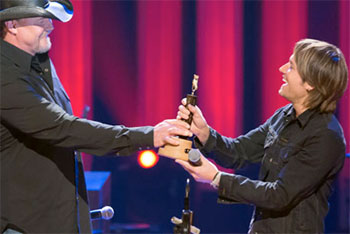 As he prepared to accept the honour, Keith reflected on his perception of the show reputed to have made country music famous, never having been able to hear or see it from abroad.
"It is right on to what I imagined in my head that it would be like," he told reporters backstage. "There's a community simplicity about it that I was really hoping that's what it would be like backstage.
"I grew up playing in all these country music festivals all around Australia, in Tamworth in particular, which is the Country Music Capital of Australia. The culture, if you will, of country music and the people, the fans, the artists, I find basically the same in Australia, here, when we travel over to Europe. There's a certain way of being that is really what the music is about."
Following his induction, Keith took the time to thank his parents, his wife Nicole Kidman, who was in attendance, and his daughters, who were "hopefully" asleep, and many more, before reflecting on where this journey had taken him.
"It's a long way from Caboolture to the stage here at the Grand Ole Opry," he said, "and to stand in this circle is the most phenomenal thing. This is a responsibility that I take deep to the heart of me."
The iconic radio show has a very special place in the 44-year-old's heart, having inspired him to step up his career.
"The first time I played the Opry was actually backing legendary Australia artist Slim Dusty, who's no longer with us. He used the little band I had called The Ranch as his backing band. I remember standing back there... and thinking it'd be great if I could get up there sometime and sing on that microphone."
Not forgetting his many fans, Keith said: "I share this award with them tonight. I was driving here thinking how important the fans are. Like a lot of artists, I get cards and notes and letters and stories in the meet-and-greets about how the music affects them, how the songs touch them in their lives, and they often say, 'You don't know how much that means to me.' This opportunity, for me, is a way to say they don't know how much they mean to me. For all of those things that connect with them, they're why I do what I do."
The Grand Ole Opry began in 1925, originally as the WSM Barn Dance, a simple radio broadcast on Nashville radio station WSM.
Recording increasing popularity, the radio station built a space big enough for an audience of 500, but this ultimately was not big enough and the weekly show occupied a number of homes before settling, in 1943, on the now famous (because of the Opry) Ryman Auditorium where it stayed for 31 years.
In 1974, the Opry moved from the Ryman to a new, larger facility at the heart of Opryland, a multi-million-dollar entertainment complex nine miles from downtown Nashville.
Today, the Grand Ole Opry attracts hundreds of thousands of people from around the world to the see the show live. Millions more tune in to Opry broadcasts on television and radio (still on WSM) and the internet (opry.com).
Six regular shows are staged weekly from Tuesday to Saturday.
Compiled partly from theboot.com.
---
FRIDAY, APRIL 20, 2012
Urban Country line-up announced
Headline artists for the 2012, ninth annual Urban Country Music Festival in Caboolture, have been announced.
"The 2012 Urban Country Music Festival, presented by Moreton Bay Regional Council, will again pack stacks of music, entertainment, and family fun into four days over Queensland's Labour Day long weekend from Friday, May 4 to Monday May 7," according to organisers.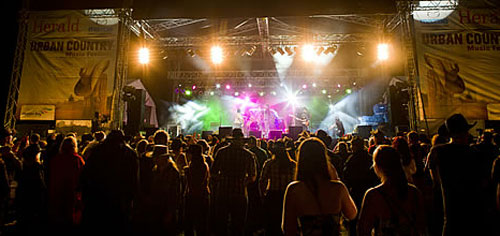 Troy Cassar-Daley, Beccy Cole, Adam Harvey, Lee Kernaghan and Shannon Noll head the star line-up for the Festival's ticketed performances on the Friday and Saturday nights.
They will be supported by Busby Marou, Doug Bruce & The Tailgaters, Jayne Denham, Pixie Jenkins, the Sunny Cowgirls and the Wolverines.
And the list goes on... including, in alphabetical order, the likes of Lyn Bowtell, Brothers3, Kim Cheshire, Paul Cowderoy, Laura Downing, Rod Dowsett, Morgan Evans, Jason Lee, Markus Meier, Lawrie Minson, Luke O'Shea & Medicine Wheel, Steve Passfield, Dean Perrett, Brendan Radford, Graham Rodger, Kiara Rodrigues, Dave Reynolds and Adam Toms.
"The Urban Country Music Festival will once again support up-and-coming talent with Bob Corbett, the winner of Tamworth's Toyota Star Maker contest also included in this year's star line up of acts," organisers said.
"We're kicking up our heels and rounding up some of the best names in the business for four days of country music under cover at Caboolture's new venue, the Queensland State Equestrian Centre.
"The undercover stadium is the perfect venue situated in the heart of the festival precinct offering festival goers a choice of either standing or seated ticket options."
In addition to the ticketed concerts, there will be much more entertainment including the popular Urban Rodeo which is returning to the event this year by popular demand.
The Voice of Urban Country talent search runs heats through Saturday with the finals from 6pm on Sunday.
There are three sections... juniors, seniors and the "Voice of Urban Country" category which is open to professional and semi-professional artists.
Total value of cash and prizes across all categories is more than $24,000.
The bush poetry completion, which annually attracts entries from all over Australia, is being held again with junior and open categories, together with the bush poet's breakfast.
A number of free events will be held at the Caboolture Historical Village where old buildings provide a nostalgic setting for live music, dance workshops, activities for children and country markets.
The Songwriters Cafe will operate again as will entertainment from balladeers and a tribute show, the Beaut Ute Competition and whip cracking at the Stockman's Arena.
Photo: a shot from one of last year's main stage concerts.
Weblink – www.urbancountry.com.au.
Colin wins Lions award
Catching up on Tamworth 2012...
Colin "Cactus" Martens from South Australia was presented with the Lions Club of Tamworth Peel Valley Country Music Community Award in January.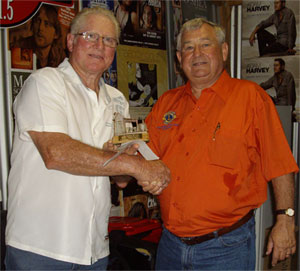 Cactus, as he is more fondly known, has spent countless hours over the years raising funds for numerous charities in the Port Pirie district including Heartbeat, the Cancer Foundation and Riding for the Disabled, said a spokesman for the Lions CLub.
"When he is not using his talents to assist the local country music clubs he can be seen entertaining at senior citizens and "old folks" homes, the Laura Hospital, CARA Kids Camp and Crystal Brooks Possums Club for Intellectually Challenged Adults."
He was presented with his award, a distinctive mounted Tamworth "dunny" created by renowned local ceramic artist Fred Hillier and a cheque for $500, by President of the Club Terry Hill.
Cactus said he was going to donate part of his cash prize to the chemotherapy unit at the Port Pirie health Service and the balance  to Port Pirie Riding for the Disabled.
This year's award was the 19th to be presented since it was inaugurated In 1994. Nominations are called from Lions Clubs throughout Australia and Cactus was nominated by the Lions Club of Port Pirie.
---
THURSDAY, APRIL 19, 2012
Eight Aussie acts in CMA Music Festival showcases
Eight Australian country acts will share the stage at two global showcases in Nashville during the 2012 CMA (Country Music Association) Music Festival.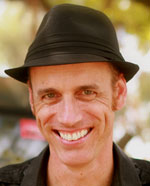 This year's Toyota Star Maker winner Bob Corbett (pictured), Morgan Evans, Adam Harvey, Craig Morrison and Joe Robinson will star in the CMA Global Artist Party alongside Canada's Emerson Drive, High Valley and Jess Moskaluke, New Zealand's Vickie Evans, Ireland's Lisa McHugh, the United Kingdom's Gary Quinn and American star Gene Watson.
Australian husband and wife duo O'Shea return as hosts from last year's event for the 2012 "Party".
New Australian duo Baylou (Barbara and Victoria Baillie, pictured) and Rick Caballo will appear at the Aristo Global Show alongside Canada's Clayton Bellamy, Adam Gregory, Josh Macumber and Jessica Ridley, Ireland's Pete Kennedy and Colm Kirwan and the UK's Raintown and Travellin Rose.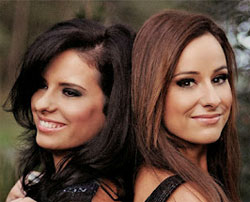 Adam Harvey will host this event.
"One of CMA's missions is to help spread country music around the globe," said Chief Executive Officer Steve Moore. "We are always excited to see international country music performers grow and develop in their own countries, and then visit Nashville to build their relationships with both the fans and the industry. We look forward to celebrating and showcasing them in Music City during the week of CMA Music Festival."
The Global Artist Party will be take place at The Stage from 6pm on Monday June 4. The Aristo Global Show gets underway from 12:30pm on Tuesday June 5 at The Second Fiddle.
Sponsor of the Global Artist Party is Chevrolet, whose Vice President of Global Marketing & Strategy Chris Perry says: "Chevrolet and music have been inseparable since the invention of the car radio. "Millions of our customers love country music and we support what matters to them."
"Eight years ago, the CMA launched its first international showcase event during CMA Music Festival week, said Jeff Walker, CEO/President of AristoMedia and CMA Board member. "Within a few years, we had to add a second show to accommodate the number of submissions we were receiving.
"In 2012, we will celebrate our ninth year of international showcases with a lineup that includes more than 20 artists. It's been fascinating to watch these events grow year after year, and I'm extremely proud of the success we've had so far."
Ex-pat Aussie now Nashville-based record producer Mark Moffatt will serve as music co-ordinator again for both global events. Digital marketing and new media company AristoWorks will stream both nights of showcases live online at websites including CMAworld.com, CMT.ca, CountryMusicChannel.com.au, HighwayFM.com, and AristoWorks.com.
---
WEDNESDAY, APRIL 18, 2012
Jay seals guitar deal
Jay Seeney, a 20 year old guitarist from Appin (NSW), has just signed an endorsement deal with international guitar company Schecter Guitar Research.
Jay is a founding member of the band Forever Road and also plays lead guitar for Telstra Road to Tamworth and CMC New Oz Artist of the Year winner Peter McWhirter.
Schecter, more known for their presence in the hard rock and metal music genres, has been introduced to the Australian country rock scene by Jay.
"I am really excited about this deal," Jay said. "If there was one endorsement in the entire world that I wanted, it was this one with Schecter."
Fellow Schecter endorsees include Prince and The Cure.
Meanwhile, Jay (pictured here with his guitar) said another major highlight of the month for him was a gig at the recent CMC Rocks the Hunter with Peter McWhirter where they performed to more than 11,000 country fans.
Weblink –www.facebook.com/jayseeney.

Chart Update – The McClymonts' third week at number one
The McClymonts latest hit – How Long Have You Known – is steady at number one for the third week on this week's national Country Tracks Top 30 singles chart.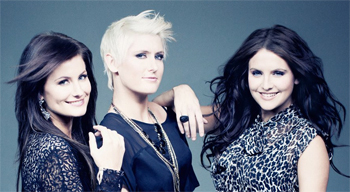 McAlister Kemp's Country Proud and Doug Bruce's Sweet are steady at numbers two and three, respectively, while Christie Lamb's Mr Wrong edges up one place to number four.
Beccy Cole jumps three places to number five with Waitress, Luke O'Shea's The Drover's Wife is at six and Kristy Cox's Little Bit Of Wonderful is up one to number seven.
America's Tim McGraw and George Strait are at eight and nine, respectively, with Better Than I Used To Be and Love's Gonna Make It Alright while O'Shea's When The Girls Get Together enters he top 10 at 10.
Bullet performers for the week include The Bobkatz' Life's Like Fishin' (17 to 12), Carter & Carter's A Good Life (16 to 13), Jasmine Rae's Let It Be Me (18 to 14), Shane Nicholson & Paul Kelly with Whistling Cannonballs (22 to 18), Troy Cassar-Daley's Live And Learn (25 to 20), Corey Colum's Outback Justice (26 to 22), the Wolfe Brothers' Wake Up (27 to 24), Peter McWhirter's How Can I Let You Go (28 to 25), Stephanie Jansen's Risky (29 to 26) and Aly Cook's Midnight Sun (30 to 27).
New entries to the chart this week are Adam Harvey with Dig Two Graves (in at 28), The Harmonators with Perfect Storm (at 29) and Chelsea Basham with I Make My Own Sunshine (at 39).
The full chart can be viewed at – www.countrymusicradio.com.au.
---
MONDAY, APRIL 16, 2012
Vale - Jenny Bennetts
On Easter Sunday, country music lost a beautiful shining face, Jenny Bennetts.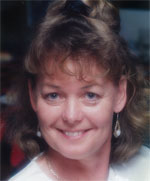 The country music industry shares a tear with Terry and their children, Jason, Tania, Nicole and Kelly, seven much loved grandchildren Ben, Jaime, Rhys, Jordan, Connor, Ruby and Rebecca, and to Jenny's mum Millie.
Jenny's family released news to their many friends saying "...we are devastated to advise that our beautiful mum and wife, Jenny, passed away peacefully in bed with her sweetheart cradling her and her loving family all around her yesterday afternoon.
Jenny's funeral service was held at the family home.
"Mum loved our little piece of paradise here in Gnangara and we're happy this is where she will be honoured and remembered."
Cards and messages or contact with the family can be sent to: 22 Moondyne Trail Gnangara 6065 WA or on facebook at www.facebook.com /terryandjennybennetts.
– Rhonda Sinclair
---
FRIDAY, APRIL 13, 2012
Rome medal for Tommy
Tommy Emmanuel has been presented with a medal from the City of Rome, the first musician so recognised, for his contribution to the arts.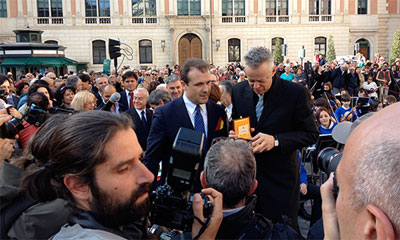 He was also the first musician to perform at the inauguration of the Piazza San Silvestro, one of the city's largest squares and now to be Rome's new cultural gateway.
The large, bronze medal imprinted with the city's coat of arms (see photo) was presented to Tommy by Rome Mayor Gianni Alemanno during the inauguration ceremony of the newly vamped Piazza San Silvestro.
Designed by architect Paul Portuguese, the former bus terminal has been converted to an open area with the intention of creating a hub for meetings, performances, demonstrations and exhibitions. The square is projected to become a significant gathering place situated in the heart of Rome's famous Trident district.
Once the Piazza San Silvestro was officially opened with the cutting of ribbon, Tommy was given a glowing introduction to the stage by Dino Gasperini, Councillor for Cultural and Historical Center of Rome Capital. A short performance followed, making Tommy the first artist to play in the new square.
He was then presented with an ornate box containing the medal as photographers crowded in to capture the moment.
The prestigious award was also presented to the legendary James Taylor later the same day. Both James and Tommy were recognised and thanked for their attention to Rome in their tours
Tommy played a concert that night in Rome at the Atlantico, one of four Italian shows before starting another European tour in Berlin, Germany, on Thursday.
The guitar virtuoso will return home to Australia for his first solo acoustic tour since 2009 later this year with all dates to be announced this coming Monday
Weblink – www.tommyemmanuel.com.
New support for Hats Off
The Tamworth Country Music Festival Stakeholders Group is becoming involved in the overall support and promotion of the mid year Hats Off To Country festival.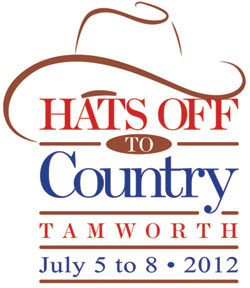 Barry Harley, Chairman of the Stakeholders Group, said Hats Off had been established by the Country Music Association of Australia (CMAA) in June 2000 but over recent years the organisation had relinquished control to a hard working, informal group that, with some assistance from Tourism Tamworth, had kept the event going.
Barry said the Stakeholders felt the Hats Off to Country festival was a vital component in the building and promotion of Country Music Capital.
"It's a great event with huge potential and we should protect all the excellent work and commitment that has been invested in the promotion over the past 12 years," he said.
"We have decided the Stakeholders Group can play a positive role in ensuring the survival and growth of Hats Off in conjunction with other interested parties such as the CMAA, the Academy of Country Music, the Capital Country Music Association, Tamworth Regional Council, venue operators and other participants."
The CMAA has given the Group the right to use the Hats Off name and logo on behalf of all those involved.
The Stakeholders Group was formed in 2009 to promote and lobby for the interests of individuals, companies and organisations with a direct interest in Tamworth country music. In recent times it has worked closely with Tamworth Regional Council and is represented on the Festival Advisory Committee.
Hats Off this year will take place from Thursday July 5 to Sunday July 8 and will feature the two Academy of Australian Country Music Graduation Concerts, a revitalised Winter Junior Talent Quest and numerous other concerts and activities as well as several major concerts including on the Friday night.
A website has now also been established for the event – www.hatsofftocountry.com.
---
THURSDAY, APRIL 12, 2012
Musicians to unite for Jimmy memorial
A concert celebrating the life and career of Jimmy Little will be held on Thursday May 3 at the Sydney Opera House.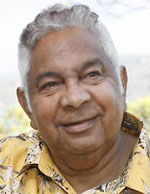 It will follow a State memorial for Jimmy and will feature some of the country's top artists and musicians.
Jimmy's manager Buzz Bidstrup said he has been putting out the word about the concert to the entertainer's many peers, collaborators and friends in the industry.
While the list of performers is not yet complete, Buzz told "The Australian" newspaper, the concert would comprise a "who's who" of Australian music.
"There will be a pretty impressive line-up of people," he said. "Jim was a very, very well-loved man."
The veteran indigenous country musician died after a long illness last week aged 75, at his home in Dubbo in western NSW.
Jimmy's family accepted the offer of a State memorial from NSW Premier Barry O'Farrell.
The NSW State Premier said he was delighted the family had accepted the NSW government's offer, which would "allow" the star's thousands of fans to celebrate his life and honour his legacy.
"Jimmy Little was a great Australian, a pioneer for the indigenous community and a talented musician," the Premier said.
Search for new Central Coast stars
The search to find the next up-and-coming country music star on the NSW Central Coast is on again.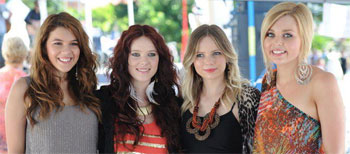 Organised annually by Central Coast-based radio station todayscountry94one, the competition is expected to attract entrants from far and wide.
Each year the station sponsors a $3000 scholarship to enable a performer to gain entry to the Australian Academy of Country Music in Tamworth.
In addition, the winner will receive a one song recording at the Music Cellar Studio, produced by Rod McCormack, delivered as a production master ready for manufacturing, plus an appearance at the todayscountry94one Christmas Party Concert in December 2012, and 12 months support and airplay.
Contestants will take part in the heats in July with five from each heat making up the top 10 to go through to the final.
"Past performers have gone on to greater success and this year will be no exception," said a spokesman for the station.
Following the 2010 competition, for example, Makaylie Foodey, Hannah Smith, Kaylah Anne and Georgia White were signed by Core Music as a direct result of this competition and are currently part of the young group The Apprentices (pictured above, from left: Georgia, Hannah, Kaylah Anne, Makaylie).
– Central Coast Express Advocate
---
WEDNESDAY, APRIL 11, 2012
New album for The Harmonators
Leading country duo The Harmonators are about to release a new album, titled Big Mouth.
The Harmonators – Rae Moody and Liz Kinninmont – met while pursuing studies as lead vocalists at the Australian Institute Of Music. The duo's career turning point was in 2004 when they took their first successful trip to the Tamworth Country Music Festival. Competing in the Capital Country Music Association's 38th National Jamboree, they took out the title for Best Group plus Overall Winners – one of a few groups to do so in the history of the competition.
The new work will be officially released on Friday May 4 to be followed by not one but two launch parties ("why have just one, when you can celebrate twice?" the girls say). The first launch will be at the Royal Cricketer's Arms Hotel in Prospect on Sunday May 6, the second at The Pub in Tamworth on Friday May 11.
Perfect Storm is the first single off Big Mouth and has been going "great guns: since it's release, the Rae and Liz said. "It is currently number 11 on 98.9 FM's Chart and 34 on the Hot Mildura FM Chart. Thank's to everyone who has added, played and requested it, we really appreciate your support."
The video clip for Perfect Storm has also been finished and delivered to the Country Music Channel, "and we couldn't be more pleased with how it has turned out (that Duncan Toombs is one clever fellow)".
Weblink – http://www.facebook.com/TheHarmonators.
New single from Katie
Fireproof is the title of the first radio single and title track from Katie O'Donnell's debut EP.
The EP features seven original songs. Katie wrote the lyrics and melody for six of these including the new single.
Fireproof holds a double meaning for Katie, the singer/songwriter said, reminding her not only of the fact that no one is fireproof but also acting as a personal mantra for strength and self-belief in times of adversity.
Although confined to an electric wheelchair with muscular dystrophy, Katie is adamant she wants her music to speak for itself.
The young West Australian has been singing and performing since she was 12 years old. She is a founding member of the Variety Youth Choir of which she has remained a member for the past 13 years.
Katie has performed across Western Australia, in Brisbane, Sydney, London, Chicago and New Zealand.
The 2011 WA Young Australian Of The Year awards state finalist listened to anything and everything growing up but over time gravitated to country. She describes her sound as a blend of country and pop.
Weblink – www.katieo.com.au.
Chart Update – The McClymonts' second week at the top
The McClymonts latest hit – How Long Have You Known – sits at number one for the second week on this week's national Country Tracks Top 30 singles chart.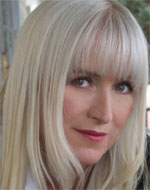 McAlister Kemp's Country Proud jumps two places to be in second place while Doug Bruce's Sweet slips one place to number three and Luke O'Shea's The Drover's Wife also jumps two to be at number four.
Christie Lamb's Mr Wrong is up three places to number five, George Strait's Love's Gonna Make It Alright is at six and Harmony James' Don't Say It is at seven.
Beccy Cole jumps into the top 10 at number eight with Waitress, Tim McGraw's Better Than I Used To Be is at nine and Kristy Cox's Little Bit Of Wonderful slides into the top 10 at 10.
Bullet performers for the week include Morgan Evans' Live Each Day (15 to 12), O'Shea's When The Girls Get Together (17 to 13), Carter & Carter's A Good Life (20 to 16), The Bobkatz' Life's Like Fishin' (22 to 17), Jasmine Rae's Let It Be Me (23 to 18), Shane Nicholson & Paul Kelly with Whistling Cannonballs (26 to 22), Troy Cassar-Daley's Live And Learn (29 to 25) and the Wolfe Brothers' Wake Up (30 to 27).
New entries to the chart this week are Peter McWhirter's How Can I Let You Go (in at 28), Stephanie Jansen's Risky (at 29) and Aly Cook (pictured) with Midnight Sun (at 30).
The full chart can be viewed at – www.countrymusicradio.com.au.
---
MONDAY, APRIL 9, 2012
Bunbury country music show
A country music show will be held at Bunbury (WA) this Saturday.
Stars of the event will include Connie Kis Andersen, Deb Beckett, Peter Busher & The Lone Rangers (pictured), Kristy Elvin, Jane Germain & Ian Simpson, Greg Hastings, Billy Higginson, Ashleigh, Tahya & Shenae Magill and Allan Spowart.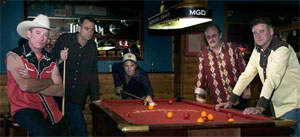 Compere for the day will be award-winning WA broadcaster Brendon T Moylan.
The free admission show is being presented by the Bunbury Agricultural Society in support of the Val Lishman Health Research Foundation as part of Australian Year of the Farmer celebrations.
It will be held at the South West Sports Ground at the corner of the Russell Highway and Rotary Avenue from 9am til 6pm.
Patrons are asked to bring a chair and rug. Food and drink will be available to buy.
Weblink – www.bunburyshow.com.au.
New single from Kirsty
Sweet Ol Jackson is the title of the second single released from Kirsty Akers latest album Naked.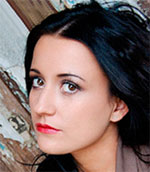 It's a follow-up to In Spite Of Ourselves, the duet with Bob Evans that attracted two finalist nominations at this year's Golden Guitar Awards.
The song is described as "a rootsy, harmonica laden foot stomper that is bound to further cement Kirsty's place as one of Australia's finest young performers". The song scored Kirsty a finalist nomination for Female Artist of the Year in the 2012 Golden Guitars.
Kirsty, who recently opened her own music themed cafe (Millie's House Of Food & Music) in her hometown of Kurri Kurri in NSW's Hunter Valley, played support for legendary American singer/songwriter Steve Earle at Lizotte's last week.
She will also be teaming up with The McClymonts on several dates.
Weblink – www.kirstyakers.com.
Musicoz entry deadline extended
The deadline for entry into the 2012 Musicoz Awards has been extended to midnight, Sunday April 15.
The extension was due to the extensive number of entries coming in in the last week, according to organisers, as well as issues some country entrants were having due to their internet connection.
"Please do not leave your entries to the 15th April in case you have issues," they said. "After this date, we will not be able to resolve issues or add entries."
Finalists in this year's Awards will be announced on Monday April 30.
Winners will be announced at the Sydney Opera House on Tuesday May 15.
Weblink – www.musicoz.org.
Fender donates to Academy
Fender Guitars has made its annual contribution to the Australian Academy of Country Music.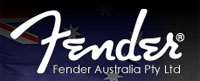 Fender's Grant Cardwell made the presentation in Tamworth, Country Music Capital, last Tuesday.
A cheque for $5,000 was handed over to the Country Music Association of Australia's Joan Douglas.

The money was raised through ticket sales from the Fender Roadcases Concert staged during this year's Tamworth Country Music Festival.
Also in attendance at the presentation were CMAA board members Rod Laing and Lawrie Minson and Academy Co-ordinator Greg Williams.
Weblink – www.academycountrymusic.com.au.
---
THURSDAY, APRIL 5, 2012
TIARA winners
Winners in the now Tasmanian (formerly Tamworth) Independent Artist Recognition Awards (TIARAs) were announced from the Axeman's Hall of Fame in Latrobe at the weekend.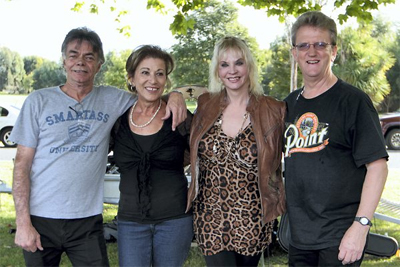 The Davidson Brothers were the big winners from the night taking home three awards... Album of the Year with Here To Stay, Group/Duo with My Heart Can't Believe my Eyes and Instrumental with OMFG.
The Female Vocal award went to Connie Kis Andersen for Angels All Around Us while Doug Bruce took out the Male Vocal award with Coffey Road.
The Songwriter award was won by Rob Wilson with Grain Of Salt, the Bush Ballad trophy to Greg Bain with The Canning Stock Route.
Doug Bruce and Amber Joy Poulton were successful in Vocal Collaboration for their recording of Close Enough and Ross McGregor was presented with the Geoff Brown Memorial Award for Drinking Tequila.
Guest artists at the TIARAs Showcase and Awards were the Davidson Brothers, Phil Emmanuel, Wayne Horsburgh and Jean Stafford together with a number of Awards finalists including Clelia Adams.
Phil, Clelia, Jean and Wayne (pictured above from left) were inducted on to the Hall of Fame's Wall of Fame during the weekend which featured a number of other related events and activities. Photo by The Advocate.
Organisers say they appreciated the degree of support from locals and business houses, many of whom had already pledged their support again for next year's event.
Weblink – www.tiara-awards.com.au.
Chart Update – The McClymonts at number one
The McClymonts latest hit – How Long Have You Known – has taken over the top spot on this week's national Country Tracks Top 30.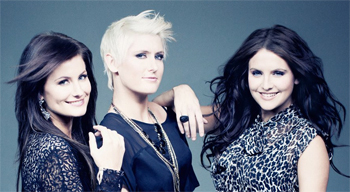 Doug Bruce's Sweet jumps two places to number two while Harmony James' Don't Say It is steady at three and McAlister Kemp's Country Proud is up three to number four.
Amber Lawrence's number one from the last three weeks, Everybody's A Mess, is at five, Luke O'Shea's The Drover's Wife is up three to number six and George Strait's Love's Gonna Make It Alright is steady at seven.
Christie Lamb's Mr Wrong enters the top 10 at eight while America's Dierks Bentley and Tim McGraw hold the ninth and 10th places, respectively with Home and Better Than I Used To Be.
Bullet performers for the week include Kristy Cox's Little Bit Of Wonderful (15 to 11), Beccy Cole's Waitress (16 to 12), Morgan Evans' Live Each Day (18 to 15), Tori Darke's Great Mistake (19 to 16) and O'Shea's When The Girls Get Together (20 to 17).
New entries to the chart this week are Troy Cassar-Daley's Live And Learn (in at 29) and the Wolfe Brothers' Wake Up (at 30).
The full chart can be viewed at – www.countrymusicradio.com.au.
---
TUESDAY, APRIL 3, 2012
Vale – Jimmy Little
Australian country legend Jimmy Little has died aged 75.
A member of the Yorta Yorta people, Jimmy grew up on the Cummeragunja Mission on the Murray River in NSW. In 1955 he left for Sydney to pursue his country music, where his mellow style earned him the nickname, among others, of "Gentleman Jim".
Elevated to the Country Music Roll of Renown in 1994, Jimmy's first single was released in 1956, but his first hit did not come until 1959 with Danny Boy which peaked at number nine in Sydney.
After 17 previous singles, he scored his biggest hit with Royal Telephone peaking at number one in Sydney and number three in Melbourne (in November 1963). In March 1964, Jimmy was named Australian Pop Star of he Year by "Everybody" magazine. His final hit of the era came with Baby Blue which reached number eight in Melbourne and number 37 in Sydney (in September 1974).
Having dabbled in acting, Jimmy turned to the craft full-time making his theatre debut in "Black Cockatoos" before appearing in the 1991 film "Until the End of the World". As well as appearing in "The Night Cries" and the opera "Black River", his teaching and community work earned him the title of NAIDOC Aboriginal of the Year in 1989.
Following his elevation to the Roll of Renown in 1994, Jimmy returned to recording, releasing his 14th album, Yorta Yorta Man.
Messenger, a collection of contemporary songs reinterpreted by the singer, was released in June 1999 and peaked at number 26 nationally, eventually selling more than 20,000 copies and winning Best Adult Contemporary Album at the 1999 ARIA Awards.
The same year, Jimmy was inducted into the ARIA Hall of Fame and won two awards, including Male Artist of the Year, at the Aboriginal and Torres Strait Islander Music Awards.
His 34th, and final, release was in 2004, Life's What You Make It.
Away from his music career, Jimmy taught and mentored indigenous music students at the Eora Centre in Redfern from 1985 and was an ambassador for literacy and numeracy for the Department of Education from 2002.
In 2004, he was appointed an Officer of the Order of Australia on Australia Day and was named a National Living National Treasure. Together with composer Peter Sculthorpe, Jimmy was awarded honorary doctorates in music in recognition of "their joint contribution to reconciliation between indigenous and non-indigenous Australians".
That same year, Jimmy was diagnosed with kidney failure and after two years of self-administered dialysis he received a life saving kidney transplant. The experience led him to launch the Jimmy Little Foundation to help the many other indigenous Australians who are succumbing to kidney disease.
The Foundation (JLF) works with patients in regional and remote Australia and is now partnering with the Fred Hollows Foundation to develop a nutrition and education program for indigenous children to help stem the ever increasing cycle of bad nutrition leading to diabetes that can lead to kidney failure.
In 2010, Jimmy was presented with the Ted Albert Award for Outstanding Services to Australian Music by APRA (the Australasian Performing Right Association).
On the personal front, Jimmy married Marjorie Rose Peters and they had several children. Marjorie pre-deceased Jimmy in July last year. Jimmy died in his sleep at home in Dubbo (NSW) yesterday morning.
Jimmy's funeral will be at 11am next Wednesday (April 11) at St Peter's Church, Pitt Street, Walgett (NSW).
---
MONDAY, APRIL 2, 2012
Felicity presented with International Broadcaster Award
Felicity Urquhart – host of ABC Radio's "Saturday Night Country" (SNC) – has been presented with the American Country Music Association (CMA) International Broadcaster Award.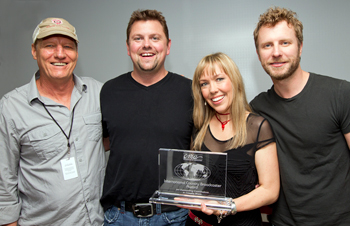 The presentation was made by American country star Dierks Bentley during his recent visit to Australia.
Felicity, who became host of SNC three years ago, was selected as the Award recipient late last year but the announcement and presentation were saved until now.
A Golden Guitar-winning singer/songwriter, Felicity is credited with re-energising the program "with her fresh spin and contemporary approach," according to the CMA. "Under her guidance, 'Saturday Night Country' has reclaimed its top position among country music media outlets in Australia."
"I am truly shocked by this award," Felicity said, "and consider it such an honour. Presenting 'Saturday Night Country' nationally every week is a passion and brings me great enjoyment."
Felicity said the support of ABC made country music accessible and current from anywhere in Australia. "It is wonderful to be part of their programming. I must importantly thank John Nutting who handed his show to me after 17 years. His faith in me is the reason I am in radio.
"'Saturday Night Country' is an institution on Australian radio," said CMA Director Rob Potts during the presentation. "It was a huge challenge for Felicity to take over from the 17-year host and legendary broadcaster John Nutting, a former winner of the CMA International Country Broadcaster Award. However, she has proven totally up to the task and has now stamped her own style and feel on the show, achieving additional ratings success. She is a very worthy winner of this... Award."
The CMA International Broadcaster Award recognises outstanding achievement by radio broadcasters outside the United States who have made important contributions toward the development of country music in their country.
Felicity has now been recognised for her work in radio on both sides of the Pacific having been voted last year as Most Popular Country Music DJ in the Australian Country Music Peope's Choice Awards.
Photo (from left): Rob Potts, American country music broadcaster Storme Warren, Felicity and Dierks Bentley after the presentation. Photo by Greg Sylvia.
ABC signs Baylou
Victorian country music sisters Barbara and Victoria Baillie have been signed by ABC Music as the duo Baylou.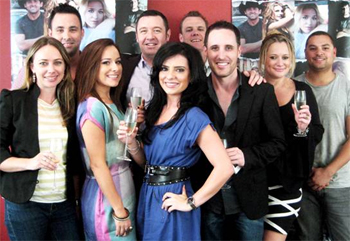 Victoria Baillie is already regarded as a highly respected recording artist in her own right having won a Golden Guitar for New Talent of the Year at the 2010 Country Music Awards of Australia and has chalked up no less than four high rotation music videos on the Country Music Channel.
Sister Barbara has been an integral part of Victoria's solo career as a guitarist and backing vocalist for most of her live shows and recordings and has toured as a musician with stars like Troy Cassar-Daley, Beccy Cole and Adam Harvey.
"As a duo, Baylou will bring an exciting and fresh new mainstream country sound to the Australian country music market with the backing of ABC Music and our partners Universal Music," said Robert Patterson, Head of ABC Music.
Baylou join a country roster at ABC that includes leading Australian acts Catherine Britt, Lee Kernaghan, McAlister Kemp, Jasmine Rae and Sara Storer.
"After working hard for many years in the music industry, we are thrilled that ABC Music have decided to support our new project, Baylou, Barb and Victoria said. "We have always wanted to work together as sisters and now with the ABC behind us, it really is a dream come true."
Baylou have recorded their debut EP with chart topping Australian producer Craig Portelis (Shannon Noll, Human Nature, Deni Hines, David Campbell). The EP and Baylou's official first single will be released in August just prior to their main stage debut at the 2012 Gympie Music Muster.
The duo's first official performance as ABC Music recording artists took place at the weekend at the Tullibigeal Picnic races supporting ARIA Country Album chart toppers McAlister Kemp as they helped celebrate Ray Hadley's 30 years in radio.
Photo – Baylou and ABC Music celebrate their new partnership (from left) back: Jonathan Villanueva (Business Co-ordinator, ABC Music) Robert Patterson, Basil Cook (Digital Manager), Natalie Waller (Business Manager), Dux Newton (Label Assistant); and front: Justine Moyle (Baylou Manager), Barb Baillie, Victoria Baillie, Tim Holland (A&R/Label Manager).
Weblink – www.baylou.tv.
---
Click here for recent news
---